Trex 450 Plus DFC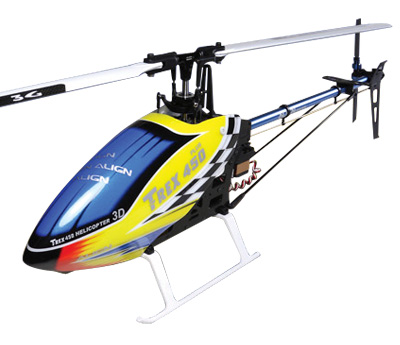 3GX MRS Programmable Flybarless System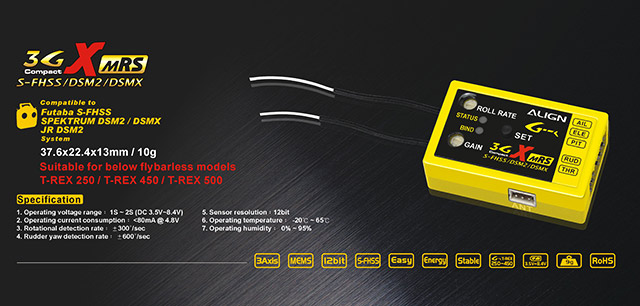 3GX MRS's was designed with goals of simple, convenient, light, and ease of adjustment. With the embedded brand new Futaba S-FHSS 2.4Ghz system/JR DSM2 and Spektrum DSM2/DSMX ,the 3GX MRS is more than just a flybarless system; it simplifies installation on small/micro sized helicopters since no receiver is needed. Its set up is extremely intuitive simplicity, just needs a few steps can easily complete the 3GX MRS adjustment. Optimized for T-Rex 250,T-Rex 450 and T-Rex 500 flybarless helicopters, with factory default setting, steady flying performance suitable for majority of pilots handling feel. In simple terms, the 3GX MRS provides pilots a more economical and reliable option.

●Spektrum and JR Satellite antennas support (Replaces original factory receiver)
●Built in Futaba S-FHSS 2.4Ghz receiver, directly compatible with Align T6 and Futaba S-FHSS transmitters....[+] More
3GX MRS Programmable Flybarless System
●Suitable Voltage Range:DC 3.5~8.4V
●Operating current consumption:<100mA @4.8V
●X and Y axis Operating Angle Range:-300~+300 degree
●Z axis Operating Angle Range:-600~+600 degree
●Sensor resolution:12 BIT
●Operating Temperature:-20~65 degree

●Compatible with T-REX 250、T-REX 450 and T-REX 500
●Operating humidity:0%~95%
●RoHS certified
●Size:37.6x22.4x13 mm Size
●Weight: 10g Weight
Overview

The fully assembled helicopter can be flown immediately just by plugging in a charged battery, allowing the pilot to bypass assembly and adjustment process. T-REX 450 PLUS DFC complete package was assembled and tuned at the factory. Before you can fly, you need to simply bind the model with transmitter and either Futaba S-FHSS system / Spektrum DSM2/DSMX / JR DSM2 accordingly following the manual instruction.

The helicopter utilizes DFC rotor head assembly, paired with 3GX MRS flybarless system optimized for T-REX 450 PLUS DFC flight characteristics. Without any adjustment or tuning, this combo will provide optimal stability suitable for pilots of all levels. For those enthusiasts who wish to fine tune 3GX MRS even further, it can be done through a few simple steps.

With the addition of the brand new 3GX MRS, the T-REX 450 PLUS DFC pushes past the performance limitation of flybar helicopter, improving both stability and 3D performance, while maintaining a down to earth price level.
Standard Equipment

●3GX MRS Flybarless System X 1 set
●RCE-BL35P 35A Brushless ESC X 1
●450MX Brushless Motor(3400KV) X 1
●DS415M Digital Servo X 3
●DS425M Digital Servo X 1
Accessories

●T-REX 450 Plus DFC Kit Set x 1 set
●3GX MRS Flybarless System x 1 set
●325D 3G Carbon blades x 1 set
●RCE-BL35P 35A Brushless ESC x 1 set
●450MX Brushless motor(3400KV) x 1
●DS415M (Metal Gear)Digital servo x 3
●DS425MDigital servo x 1
Product Specifications

●Length: 634mm
●Height: 205mm
●Main Rotor Diameter: 715mm
●Tail Rotor Diameter: 158mm
●Motor Drive Gear: 11T
●Main Drive Gear: 112T
●Autorotation Tail Drive Gear: 106T
●Tail Drive Gear: 25T
●Drive Gear Ratio: 1:11:4.24
●Flying Weight: Approx. 584g
●Color carton:27.3x10x6.6cm
●Outer carton:56x31x28cm ,24sets/ctn

Required Products

Radio transmitter and electronic equipment required for assembly:
1.Dial Pitch Gauge or Digital Pitch Gauge
2.Swashplate Leveler
3.3S1P 11.1V 2000~2300 mAh/30C Li-polymer Battery
4.ALIGN T6 or Futaba S-FHSS 2.4G Transmitter or JR/Spektrum 2.4GHz Transmitter and Spektrum DSM2/DSMX system Transmitter