SR3300T DSM 3-Channel Surface Receiver With Telemetry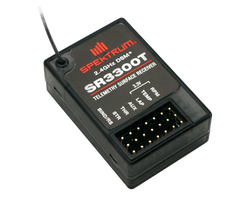 Key Features
3-channel DSM® surface receiver with built-in telemetry
Telemetry features include voltage, temperature, rpm and laps (handheld only)
---
Product Specifications

Type: DSM® receiver with integrated telemetry
# of Channels: 3
Modulation: DSM
Band: 2.4GHz
Length: 1.60 in (41mm)
Width: 1.06 in (27mm)
Height: 0.58 in (15mm)
Weight: 0.4 oz (11 g)
Voltage Range: 3.5 - 9.6V
Overview

The Spektrum™ SR3300T 3-channel DSM® receiver features integrated telemetry that is compatible using a Spektrum handheld telemetry unit (not included) or telemetry can be displayed on-screen using Spektrum telemetry-compatible transmitters. Telemetry features include voltage, temperature, rpm and laps (handheld only). The SR3300T receiver is compatible with all Spektrum surface transmitters and operates in DSM mode.

Note: The SR3300T receiver does not include the telemetry sensors or rpm sensor mount hardware. Sensors and mount hardware are available separately:

SPM1450 Head Temperature Sensor
SPM1451 Battery/Motor Temperature Sensor
SPM1452 RPM Sensor
SPM1512 Telemetry RPM Sticker Sheet
SPM1502 Sensor Mount Hardware: .12–.15
SPM1501 Sensor Mount Hardware: .21–.26
SPM1503 Sensor Mount Hardware: Electrics

Always purchase products from a Horizon Hobby, Inc. authorized dealer to ensure authentic high-quality Spektrum product. Horizon Hobby, Inc. disclaims all support and warranty with regards, but not limited to, compatibility and performance of counterfeit products or products claiming compatibility with DSM2® or Spektrum products.

Attention: Horizon Hobby has confirmed that all Spektrum Products being sold by KoKo Technology are counterfeit. We consider it a danger to use these products, waive all liability and will not support any warranty or service in regards to them.