MR3000 DSM 2-Channel Marine Receiver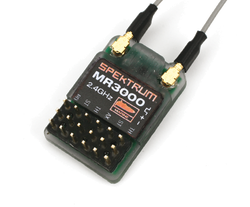 Key Features
3-channel Marine-specific receiver
Dual outputs on steering and throttle
Water resistant enclosure
Dual switching feeder antennas
Preset Failsafe system
QuickConnect
---
Product Specifications

Type: 2.4Ghz Marine Receiver
# of Channels: 3 (plus dual throttle and steering outputs)
Modulation: DSM Marine
Band: 2.4GHz
Length: 1.3 in (34mm)
Width: 0.8 in (19mm)
Height: 0.2 in (5mm)
Weight: 0.2 oz (6 g)
Voltage Range: 3.5 - 9.6V
Antenna Length: 14 and 8 inches

Overview

Leave it to the folks who have pioneered more ways to use 2.4GHz RC than anyone else to develop the ideal solution for boat modelers. The result of years of research and testing, Spektrum's 3-channel MR3000 Marine 2.4GHz receiver uses a unique signal protocol built into new DX3S transmitters that has been optimized specifically for marine use.

Features that can't be found in any other receiver make Spektrum's MR3000 the perfect choice for RC boating enthusiasts. Specifically designed for boating applications, it offers 3 channels – throttle, rudder and an auxiliary channel that can be utilized for a variety of applications, including mixture control on nitro boats and throttle kill on gas boats. The MR3000's water-resistant case protects its circuitry from water and prevents corrosion, while its compact design allows for simple, clean installation in most applications.

The MR3000 is compatible with Spektrum surface transmitters featuring the marine logo. If your transmitter has the Marine logo (located on the back side of the transmitter), then it is compatible with the MR3000. The MR3000 is also compatible with Spektrum and JR® DSM2™/DSMX aircraft radios.

Compatible Surface Transmitters: the new DX3S (SPM3140), DX2S (SPM2120), DX3E (SPM3160), the new DX2.0 (SPM20220), and the new DX3.0 (SPM20320). Earlier versions of the DX3S, DX2.0, and DX3.0 are not compatible with this receiver. Please look for the Marine logo on the back of your transmitter and check the transmitter part number for compatibility.

Telemetry: None

Always purchase products from a Horizon Hobby, Inc. authorized dealer to ensure authentic high-quality Spektrum product. Horizon Hobby, Inc. disclaims all support and warranty with regards, but not limited to, compatibility and performance of counterfeit products or products claiming compatibility with DSM2, DSMX or Spektrum.

Attention: Horizon Hobby has confirmed that all Spektrum Products being sold by KoKo Technology are counterfeit. We consider it a danger to use these products, waive all liability and will not support any warranty or service in regards to them.