Spektrum DX9 DSM2/DSMX 9-Channel Radio System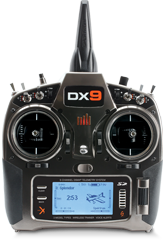 Features
9 fully-proportional channels
User-configurable switch and stick assignment
Voice alerts—transmitter can speak to the user in 5 different languages ** (English, German, Spanish, Italian, and French) to communicate information from telemetry
Wireless trainer system with model match—instructors can work with multiple students without having to re-bind to each student
Virtually unlimited model memory—transmitter stores up to 250 models and only populates the model list with models the user has configured
Direct system menu access—it is not necessary to power off the transmitter to access the key system menu
Active gyro and governor trim in heli, 3-axis gyro support for aircraft—allows adjustment of gyro gain for all 3-axes in flight
Absolute travel feature prevents over-driving servos when using mixes
High resolution 192x96 backlit LCD screen
User mode selectable (1–4), comes in Mode 2 configuration
User-configurable switch and stick assignment
7 point curves give the ability to fine tune model setups to allow precision adjustments of mixes and pitch/throttle curves
Helicopter electronic "E Ring" electronically prevents overdriving the cyclic servos
Forward programming capability already built into the DX9 will ensure customers can take advantage of the next generation of Spektrum components
SD card support for backing up files, BNF setups, and firmware updates
Binds with any DSM2 or DSMX aircraft receiver
---
Spektrum Software That's Easy To Use

From its beginnings, the people behind Spektrum technology have constantly sought new ways to make the RC experience simpler, safer and, most of all, more fun. The DX9 is proof positive this relentless spirit of innovation lives. on.
Talk isn't cheap. It's Priceless.

While the DX9 possesses a number of class-leading features, the centerpiece is it's incredibly advanced voice alert system. In fact, with it's lexicon of over 300 words, numbers and phrases, it's quite possibly the most advanced system of its kind ever seen (or heard) in a handheld, 9-channel transmitter.

For instance, you can program the DX9 to call out what flight mode has been chosen when switching from one to another. It can also be programmed to call out specific values for voltage, temps, or any other critical telemetry info, on demand. If an alarm goes off, the pilot won't have to look at the display to see what's happening. The DX9 can tell them.

The DX9 comes out of the box with English voice alerts. Other languages are available for download.



Wireless Trainer Links.

While the DX9 does have a trainer cord jack, it gives instructors the option to wirelessly "buddy box" with another DSM2®/DSMX® transmitter. Once bound to another transmitter, ModelMatch® technology will allow the DX9 to re-link without having to go through the bind process again.

Forward Programming*

This innovative software feature will equip you for a new generation of Spektrum components that can be programmed directly through the DX9. This, along with regular Spektrum AirWare™ software updates, will ensure the DX9 remain as cutting-edge tomorrow as it is today.

*Available with DX9 AirWare software version 2.0 and higher.



250 Model Memory.

The enormous capacity of the DX9's on-board memory means you will rarely, if ever, need to juggle models between transmitter memory and your SD card. The model memory menu is easier to navigate too. Only memory slots with model settings saved to them will appear. It won't be necessary to scroll through empty slots or move models around if one is deleted.


Built-in Telemetry

The DX9 is equipped with a built-in telemetry feature that gives you real-time information on things like your model's battery voltage, signal quality, engine or motor temperature, airspeed, altitude and more.*

Using the voice alert system, you can have the DX9 call out specific telemetry values that reach or exceed limits you define. You can also have the DX9 call out a sequence of telemetry values on demand with the flip of a switch. If you want to review telemetry after a flight, the DX9 can be set up to record the data to its SD card.


Superior Ergonomics.

The weight distribution and ergonomics of the DX9 have been optimized to fit the way you fly. The result is a sense of balance and comfort that perfectly complement the speed and precision of DSMX technology.

Notable features include:

Comfortable, no-slip rubber grips
Adjustable stick length and tension
Smooth, quad-bearing gimbals
User-adjustable mode configurations (1, 2, 3 or 4)
User-assigned switch functions
Easy-to-read backlit screen
Intuitive SimpleScroll programming interface
Programming Features

Airplane

10 Wing types: Normal, Dual Aileron, Flaperon, 1 Aileron 1 Flap, 1 Aileron 2 Flaps, 2 Aileron 1 Flap, 2 Aileron 2 Flaps, Elevon, Elevon-B, 4 Aileron
6 Tail types: Normal, V-Tail A, V-Tail B, Dual Elevator, Dual Rudder, Dual Rudder/Elevator
Flap delay and elevator compensation
5 Flight modes
Dual rates and expo
10 Programmable mixes

Helicopter

Active gyro trim
7-Point throttle curve
7-Point pitch curve
7-Point tail curve
7 Swash plate types: Normal, 3 Servos 120°, 3 Servos 135°, 3 Servos 140°, 3 Servos 90°, 4 Servos 90°, 2 Servos 180°
Swash plate timing
5 Flight modes
Dual rates and expo
10 Programmable mixes

Sailplane

5 Wing types: 1 Servo, 2 Aileron, 2 Aileron 1 Flap, 2 Aileron 2 Flap, 4 Aileron 2 Flap
3 Tail types: Normal V-Tail A, V-Tail B
Flap delay and elevator compensation
10 Flight modes
Dual rates and expo
10 Programmable mixes

What's Included

2000mAh 2S Li-Ion transmitter battery (installed)
SD Card
Custom DX9 neck strap
12V Global Power Supply
Spectrum Data Interface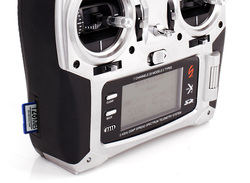 Beyond new software and telemetry, the DX7s is also the first Spektrum radio to introduce the Spektrum Data Interface™. The SDI is designed for use with standard SD memory cards and adds a whole new level of flexibility and ease-of-use. With the SDI, you will be able to:

Share Model Setups
Share setups with other DX7s owners at the field or transfer them from your SD card to your PC and attach them to an e-mail. This makes it easy to gain from the experience of others or help others succeed.

Save More Models to Memory
The DX7s has enough on-board memory for up to 20 models before you even need to think about using the SDI. But with the SDI, memory for thousands of models could be stored on the SD card or transferred to a PC hard drive for backup.

Stay Up to Date
With the Spektrum Data Interface, you won't have to send your DX7s into a service center to get the latest Spektrum AirWare enhancements. You can download them onto your SD card and upload them to the DX7s yourself.

---
Product Specifications

# of Channels: 9
Modulation: DSM2/DSMX
Band: 2.4GHz
Receiver: AR8000 8-Channel Full Range Receiver
Programming Features: Helicopter & Airplane
Model Memory: 250
Modes: Selectable 1,2,3 or 4
Transmitter (Tx) Battery Type: 2 Cell 2000mah Li-poly
Charger: Internal AC Adapter

Overview

We at Spektrum are excited to introduce the Spektrum™ DX9 transmitter. The DX9 has a number of features that make this the transmitter to own in the 9 channel class. Key among these is voice alerts, wireless trainer function, and the comfort and ease of programming only Spektrum can provide. The easy to program but highly capable airware software system makes complicated setups simple and encourages people to do more with their hobby. Telemetry will become more useful and meaningful with the voice alerts in the DX9, and for a fully integrated voice feedback system Spektrum offers a full suite of advanced telemetry sensors.

* The DX9 is compatible with TM1000 and TM1100 telemetry modules and accessories, sold separately

** The DX9 comes out of the box with English voice alerts. Other languages are available for download.

Related Products