Spectrum DX6i DSM2/DSMX 6-Channel Radio System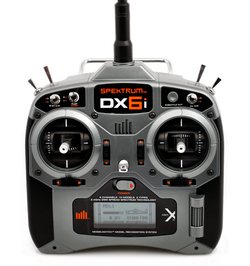 Features
Full-range 2.4GHz DSMX® 6-channel radio
10-model memory
ModelMatch™ technology
ServoSync™ technology
Roller/selector user interface
Attractive and ergonomic design
Proven DSMX technology
Rudder dual rate
Large LCD display
Integrated timer
Contrast adjustment
Dual-speed trim scroll
Model name and type
Throttle cut
Trainer mode
Model copy
Travel adjustment
Sub Trim
Servo monitor
Dual rate and exponential
Airplane programming features: flaps, P-mixes, dual aileron, V-tail, delta, differential
Heli programming features: gyro adjust, graphic throttle curve, graphic pitch curve, P-mixes, revo mix, swash type (normal and CCPM 120)
Adjustable stick length
Direct trim access display
Compatible with any existing DSM2® and DSMX receivers
---
The Programming you need and nothing you don't

The 6-channel DX6i includes software for both airplanes and helicopters as well as enough memory to store settings for up to 10 different models. The 10-model memory is especially useful if you fly mostly Bind-N-Fly aircraft.

Programming the DX6i is about as intuitive as it gets. The combination of its Simple Scroll™ interface, easy-to-read LCD screen and simplified menu navigation will immediately put first-time programmers at ease. Many programming functions like throttle curves and expo are graphically depicted to give you a clearer picture of the changes you're making.



Product Specifications

# of Channels: 6
Modulation: DSM2/DSMX
Band: 2.4GHz
Receiver: AR6210 6-Channel Full Range Receiver
Programming Features: Helicopter & Airplane
Model Memory: 10
Modes: Mode 2
Transmitter (Tx) Battery Type: AA NiMH 1500mah Batteries (Included)
Charger: 4-cell 150mAh wall charger (included)
Overview

The 6-channel DX6i uses the same full-range DSMX® technology found in the Spektrum™ DX8 and includes an impressive list of programming features for both airplanes and helicopters that are simple to access and use. It comes with the AR6210 DSMX 6-channel receiver that is robust enough to use in large models yet compact enough to fit in many park flyers. The DX6i is also compatible with all existing Spektrum aircraft receivers. Whatever kind of flying you do, the DX6i can be adapted to most any model in your existing collection that requires six channels or less.

This DX6i package includes:
1 transmitter
4 rechargeable AA batteries
1 charger
1 AR6210 6-channel DSMX receiver
1 manual/quick start guide

Neck strap is available separately.

Note: The DSMX DX6i is compatible with all current Spektrum DSM2® and DSMX aircraft receivers. The DSMX-branded DX6i transmitter is not compatible with the Spektrum AR6000/BR6000 receiver.

Always purchase products from a Horizon Hobby, Inc. authorized dealer to ensure authentic high-quality Spektrum product. Horizon Hobby, Inc. disclaims all support and warranty with regards, but not limited to, compatibility and performance of counterfeit products or products claiming compatibility with DSM2, DSMX or Spektrum.

Attention: Horizon Hobby has confirmed that all Spektrum Products being sold by KoKo Technology are counterfeit. We consider it a danger to use these products, waive all liability and will not support any warranty or service in regards to them.

Related Products