Blade Chroma RTF 1080P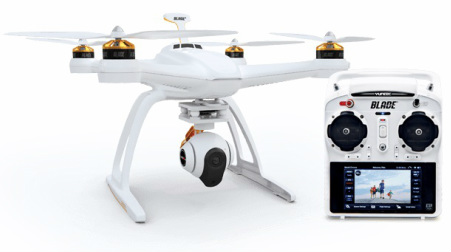 Safe Mode

Perfect for First-Time Pilots. Smart Mode uses Stick Relativity to move the drone in whatever direction the control stick is pushed, no matter which way its nose is pointed. It also creates a SAFE Circle™ barrier that prevents you from flying too close to yourself or people standing next to you.



AP Mode

For the Experienced Pilot. The drone responds like a conventional RC aircraft without Stick Relativity or the SAFE Circle. Response is smooth and predictable so panning and tracking shots look great.



Follow Me Mode

Your Built-In Copilot. The drone follows you at a distance and altitude you set so you can focus on lining up the perfect shot using the rudder and camera tilt controls.




Tracking Mode

Be the Star of the Show. The drone will follow and keep the camera pointed at whoever is holding the ST-10+ controller. This is a great way to capture yourself in action when no one else is around to fly for you.

Return Home

Safe Landings with the Flip of Switch. The drone returns itself to the start-up point and lands for you. This is ideal for first-time flyers who aren't quite ready to land themselves. It's also an easy way to regain visual contact if you accidentally lose sight in flight.


Adjustable Flight Boundaries Technology

Stay Legal. Stay Safe. Fly Responsibly. Never fly beyond altitude and distance limits you define. This will help you avoid sensitive airspace ...and neighbors.

Features

Captures smooth, steady aerial video in brilliant high definition
No-distortion camera lens eliminates fish eye effect
Easy to fly – no experience necessary
Everything in one box
30 minute flight times
Advanced SAFE® Plus technology
Smart Mode for beginner pilots
AP Mode for experienced pilots
Autonomous Follow Me and Watch Me modes
Return Home function
CGO2+ 16MP 1080p/60 camera with integrated 3-axis brushless gimbal
ST-10+ controller with built-in Android display
See live video and telemetry info on controller display
Uses GLONASS and U.S. GPS for greater accuracy and reliability
Mast-mounted GPS antenna for superb signal reception
Micro SD card for camera
3S 6300mAh Li-Po Flight Battery
Li-Po battery charger with AC adapter
Display screen sun shade
USB programmer cable
Product Specifications

Type: Multirotor
Gross Weight: 45.9 oz (1.3 kg)
Length: 13.1 in (332mm)
Kit/ARF/RTF: Ready-To-Fly AP Combo
Recommended Environment: Outdoor
Blade Chroma Parts