Blade 350 QX3 RTF/BNF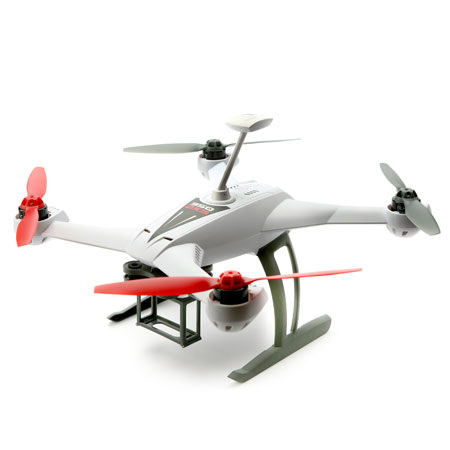 Engineered With SAFE™ Technology SAFE™ (Sensor Assisted Flight Envelope) technology is a revolutionary electronic flight envelope protection system. It also offers smoother flight capability that battles windy conditions for you and multiple modes so you can fly with the level of protection and assistance that suits any given moment of the flight.


Safe Technologies
What makes the Blade 350 QX3 such a great camera platform? Advanced SAFE (Sensor Assisted Flight Envelope) technology. Using this technology, the Blade 350 QX3 gives you two flight modes that have been specially programmed for capturing aerial video and images. Both feature self-leveling and use GPS and altitude sensors to precisely hold position in a hover. SAFE technology will even land the aircraft for you if you activate the Return Home function.



Smart Mode
Perfect for first-time drone flyers. In Smart Mode, the 350 QX3 will always fly in whatever direction the control stick is pushed. This is called Stick Relativity. It doesn't matter which way the nose is pointed. If you move the control stick to the right, even if the aircraft is spinning, it will fly to the right. Smart Mode also creates a SAFE Circle™ barrier that prevents the aircraft from flying too close to the pilot.

AP Mode
For more experienced drone pilots. In this mode, the Blade 350 QX3 responds to control inputs like a conventional RC aircraft without Stick Relativity. It also gives the pilot more control authority by turning off the SAFE Circle and allowing steeper bank and pitch angles. This makes it possible to get faster panning and tracking shots when you're shooting high-energy, action video.


Return Home
This safety feature can be activated at any time with the flip of a switch. When activated, the Blade 350 QX3 will automatically fly itself back to the place its motors were first started and land without any help from the pilot. It's great for first-time flyers who aren't quite ready to land the aircraft themselves. It's also handy if you temporarily lose sight of your 350 QX3 while chasing down the perfect shot. Just activate Return Home until you regain visual contact and then turn it off to resume control. If for whatever reason the transmitter signal is lost, Return Home will take over and fly the 350 QX3 back to you until it lands or the signal is restored.

Alternate Flight Modes Available
The 350 QX3 gives you the option of accessing an alternate set of Stability and Agility flight modes. These flight modes are programmed for experienced quadcopter pilots who have mastered the basics and are ready for more aggressive response and aerobatic flight. To learn more about accessing Stability and Agility modes, see the manual.


Adjustable Flight Boundaries
As an added safety feature, the Blade 350 QX3 operates within geo-referenced flight boundaries that you define. Out of the box, its boundaries are set at 100 meters from and 50 meters above the point where the motors were started. You can adjust these boundaries using the programming interface.

Distance Boundary Range
20 m (Approx. 65 ft) out to 2500 m (Approx. 1 ½ miles)

Height Boundary Range
20 m (Approx. 65 ft.) up to 1000 m (Approx. 3,280 ft.)



Intuitive Programming Interface
The free PC programming interface makes monitoring systems, adjusting settings and calibrating sensors as easy as point and click. It features four screens.

Sensor Information Screen
- See status of all sensors and speed controls at a glance
- Check battery voltage and accelerometer operation

Calibration Screen
- One-click calibration of accelerometers and camera gimbal
- Instructions for calibrating compass sensor and DX4 transmitter
- Adjust geo-referenced flight boundaries

GPS Screen
- See number of available satellites and signal strength
- Verify latitude, longitude and altitude indications
- Verify GPS accuracy

Device Information Screen
- See programming software version
- See quad firmware version and vehicle ID
- Update firmware


Includes an Easy-to-Use DX4 Transmitter in RTF
The included DX4 is a full-range transmitter that uses the same Spektrum™ DSMX® 2.4GHz technology preferred by RC experts the world over. This advanced signal processing technology provides superb range and interference protection, especially in 'noisy' environments where a lot of 2.4GHz systems are in use at the same time.

The DX4 also features spring-loaded control sticks that make the Blade 350 QX3 incredibly easy to fly. For instance, when using the throttle stick, instead of having to hunt for the right power setting when entering a hover, just climb or descend to the altitude you want and let go of the stick. The 350 QX3 will automatically hold altitude when the throttle stick snaps back to neutral. The same goes for the other controls. Once you have the aircraft where you want it, just let go of the sticks. With the sticks at neutral, SAFE technology will stabilize the 350 QX3 and hold position until you are ready to fly somewhere else.
Key Features

WI-FI Password: 1234567890
Captures smooth, steady aerial video in brilliant high definition
Includes everything in one box
Easy to fly – no experience necessary
10 - 15 minute flight times
Mast-mounted GPS antenna for improved GPS performance
5.8GHz Wi-Fi link for compatible iOS and Android devices
Advanced SAFE® (Sensor Assisted Flight Envelope) technology
Smart Flight Mode – SAFE Circle™ barrier, stick relative control response and GPS/Altitude hold
AP Flight Mode – faster panning and tracking response with GPS/Altitude hold
Return Home function – aircraft returns to start up point and lands on its own
Blade® CGO2 GB 16MP 1080p/60 camera with integrated 3-axis brushless gimbal
8GB Micro SD card included for camera
E-flite® 3S 3000mAh 11.1V 30C Li-Po Flight Battery
E-flite DC Li-Po battery charger with AC adapter
Spektrum™ DX4 transmitter with mobile device mount
Four AA transmitter batteries
Overview

Following our passion for innovating convenient ways to fly, we have taken the Blade 350 QX to the next level. Introducing the 350 QX AP Combo RTF, a fully integrated aerial photography solution. We've listened to the customer and built that feedback into the next generation of the 350 QX.

This model includes a plethora of new features including:
• 2-axis brushless gimbal with optional pitch control
• 1080/30 camera with 720/30 video downlink to mobile devices
• 3S 3000 mAh flight battery for extended shoots
• New DX4 Transmitter

The 350 QX AP Combo also takes on a host of upgrades to the existing system including:
• New RF chipset with external antenna
• Improved GPS performance and accuracy
• Visual compass error detection to alert the user for calibration
• Simplified radio solution for ease of use
• Included AC/DC charging solution
• White battery hatch for improved orientation

The 350 QX AP Combo captures incredible aerial footage without any of the hassle of buying several components and is backed by the best support in the industry should you ever need it. Feel free to stop looking, you've found the perfect AP solution for your fleet!

Smart Mode: GPS/Altitude Hold, SAFE™ Circle feature and Stick Relativity
AP Mode: Limited flight envelope, self-leveling and GPS/Altitude Hold. Damped, self-leveling for improved video quality.
Stability Mode: Limited flight envelope, self-leveling and GPS hold.
Return Home and Land: Returns the 350 QX to the home position and lands at the pilots command.
Product Specifications

Main Rotor Diameter: 22.8 in (580mm)
Gross Weight: 35.5 oz (1006 g)
Length: 18.3 in (465mm)
Kit/ARF/RTF: RTF
Rotor Blade Length: 8.27 in (210mm)
Minimum Age Recommendation: 14 years
Experience Level: Beginner
Recommended Environment: Outdoor
Is Assembly Required: No
Blade 350QX2 AP Replacement Parts

Blade 350QX2 AP Optional Parts

UPG7130 Skin
Red Carbon


UPG7131 Skin
White Carbon