AXE 100SSL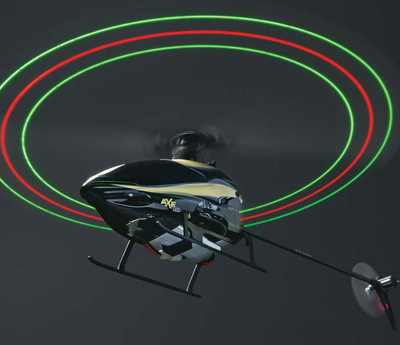 Key Features

Super-bright LEDs built into the blades and tail run off power from the main battery. No extra battery required.
Lightweight, high-capacity 400mAh LiPo battery included.
Hidden wiring and connectors offer easy hookup and a clean, untouched look.
Brushless outrunner motor and controller deliver the power for the most radical maneuvers.
Beefed-up airframe molded to accommodate the demands of brushless power.
Individual controller and servos maximize performance and simplify replacement.
Extended tail boom for improved tail authority.
Dependable, responsive motor-driven tail rotor
Ideal for indoor and outdoor flying.
Virtually unbreakable landing gear.
Overview

Brushless power is just one thing that makes the Axe 100 SSL (Super Sport Brushless LED) stand out in a crowd. The others are high-intensity LEDs in the main blades and tail. They're so bright that they're easy to see even in full daylight, and color-keyed to keep you constantly aware of the Axe 100 SSL's position and orientation. And with the power and aerobatic agility of this heli, both can change in a heartbeat. Available in an all-inclusive RTF and in another version that delivers all the potential and possibilities of Tx-R (Transmitter-Ready) flying!
Product Specifications

Rotor Diameter: 9.5 in (242 mm)
Weight (w/o battery): 1.7 oz (48 g)
Length: 10.4 in (264 mm)
Requires: (8) "AA" alkaline batteries